• #airforce • #army • #FireDepartment • #firefighter • #firefighters • #firstresponders • #JROTC • #marines • #military • #navy • #Prayer • #thinredline
The Jackson County community is mourning the loss of 16-year-old Christopher Harrison, after he died Tuesday from complications following a motorcycle accident. On Tuesday, Jackson County Judge-Executive Shane Gabbard officially ordered all flags at county government buildings to be flown at half-staff until Harrison's funeral is over. Flags were flown at half-staff across Jackson county Tuesday as the community mourns the death of 16 year old Chris Harrison... a young man who was already known to many...as a hero. "Him being the kind of student and citizen that he was, and playing the role he did in our community, it's...
---
• jrotc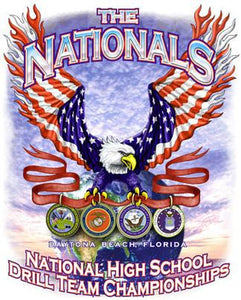 2017 Ocean Center Arena & Exhibit Hall Sunny Daytona Beach, Florida Challenge Level/OLCG: Friday, 5 May, 2017 Masters Level: Saturday & Sunday, 6-7 May, 2017 Registration will open for the 2017 Nationals on  September 1, 2016. GENERAL INFORMATION on the NATIONALS The NHSDTC remains the largest and most well-recognized collection of drill & ceremony talent ever assembled in a single weekend. The four primary branches of the military will be sending their finest schools to compete in this unparalleled weekend of military excellence. Over 100,000 cadets, instructors and parents have attended the NHSDTC competition over the years. You and your program...
---
• #airforce • #army • #JROTC • #marines • #navy • #ROTC
Junior Reserve Officer Training Corps programs can instill skills in students that help them in all aspects of life.  Citizenship, leadership, character and community service are the core tenets of high school Junior Reserve Officer Training Corps programs. "JROTC is based on leadership," says Shelbi Davis, 18, a senior at Smith-Cotton High School in Sedalia, Missouri. "It just helps you work with others and be able to clearly express yourself and not be afraid of what people think of you." Davis, a cadet colonel in her high school's junior ROTC program, is one of the thousands of teens who participate in...
---
• #army • #military • #powmia • JROTC
---
COATESVILLE – For nearly 50 years, the Air Force Junior Reserve Officer Training Corps (AFJROTC) has been educating high school students throughout the world with the following core values: integrity first, service before self and excellence in all they do. That is exactly what Lt Col (Ret) Eric Turnbull and MSgt (Ret) Chris Sidoli have been teaching their cadets since the PA771 AFJROTC program was brought back to the Coatesville Area Senior High School for the 2014 – 2015 school year. With over 850 service hours in their unit, the cadets have participated in several volunteer projects over the past...