• #FireDepartment • #firefighters • BCA • firefighterrequirments • foracure • october • PINK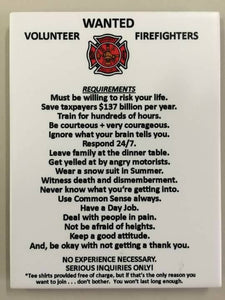 Can you meet the requirements?
---
• #FireDepartment • #firefighters
Being a firefighter is not easy and neither is the process of becoming a firefighter. Competition is fierce and the hiring process can be very grueling and challenging, something many people do not endure or succeed at. More than 70 percent give up the pursuit of becoming a firefighter and move on to other career choices. There are likely many reasons for this statistic. Perhaps they did not know what they were getting into when they began the process, or they did not adequately prepare themselves. In no specific order, here are 10 must-do things every firefighter candidate should be...
---
• #femalefirefighter • #FireDepartment • #firefighters
Credit: Curt Varone , Fire Law Blog.   I was recently hired as a firefighter and my department requires me to get my paramedic license within my first year. The department gives me time off to attend classes when I am scheduled to work but they do not pay me for the time I spend attending class when off-duty. The training chief told me the department doesn't have to pay for paramedic training. Is that right? They are requiring that I have my paramedic. How can they avoid paying me for my time?     Answer: The general rule under the...
---
• #FireDepartment • #firefighter • #firefighters • #firetruck
    A Holly Ridge man has been accused of slashing the tires of a rescue medical response vehicle, delaying officials as they tried to respond to an emergency call. Connor Murray, 39, of Ridge Willow Road in Holly Ridge, was arrested Friday by Holly Ridge Police Department and charged with injury to personal property and property damage. Murray is accused of slashing six tires on three different vehicles that night, one of which was a rescue medical response unit, which were parked outside of the home of the chief of the Holly Ridge Volunteer Fire and Rescue Department, according...
---
• #FDNY • #FireDepartment • #firefighter • #firefighters • #firetruck
FDNY Engine 40/Ladder 35 Photo Courtesy: John Roca   Several FDNY firefighters were disciplined for hazing a rookie firefighter. Seven firefighters from Engine 40 and Ladder 35 in Manhattan allegedly poked fun at an African-American firefighter. The punishment included the loss of 15 vacation days and the loss of pay, ranging from three to 30 days, according to the New York Post. If they did not accept the discipline, they could have faced administrative charges.  While the department did not share details of the incident, a source told the newspaper that the firefighter's locker was found in the bathroom. In 2013, then-Fire Commissioner Sal Cassano established a policy against...