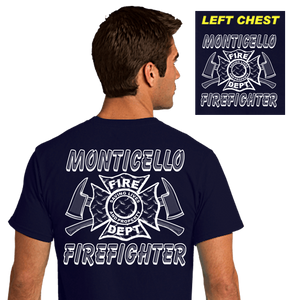 dovedesigns.com
Fire Department Duty Shirts (DD-FDTREAD)
Regular price
$ 9.95
$ 0.00
Show your Departmental Pride by
wearing these high quality shirts.
We are making these items available starting at a tremendous price of
for short sleeve tees with a
Available in:
SST Short Sleeve Tees, LST Long Sleeve tees, SS Sweatshirts,
SSH Sweatshirt Hoodies, & SSHZ Sweatshirt Hoodies Full Zip
with your Department's Name.
with questions or pricing on other available items.
Sizes Available: Adult S, M, L, XL
(Add $2 for 2XL, $3 for 3XL, $4 for 4XL, and $5 for 5XL).
Add a note to your order at Checkout!
---
More from this collection