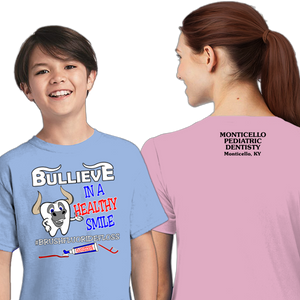 Dove Designs
Children's Dental Health Month (DD-NCDHM) (24 pc min.)
Regular price
$ 8.95
$ 0.00
(OFFER EXPIRES 1/12/18.)


Offer # DD-NCDHM
February is National  Dental Health Awareness Month,
show you support by having your office staff and clients 

wear these high quality t-shirts.
BULLIEVE.... In a Healthy smile!
We are Making these High Quality shirts available
in
Short Sleeve & 
Long Sleeve
 Shirts with this beautiful holiday design starts at
ONLY
$8 .95 Each
With a Minimum order of
24
 Pieces

Sizes Available: S, M, L, XL
add ($2 for 2XL, $3 for 3XL, and $4 for 4XL)


(Additional charge for shipping.)
All shirts can be PERSONALIZED FREE
with your Office Name on the left sleeve
with a 24 piece minimum order.
This offer Expires 1/12/18. All orders will ship after 1/19/18.  
For questions, pricing, or to place your order
call us TOLL-FREE at:
1-888-377-4459.
You will be required to enter
your Artwork on each size.
ARTWORK EXAMPLE:
MONTICELLO
PEDIATRIC
DENTISTRY
MONTICELLO, KY
---
More from this collection